Post by Alex Liggett on Apr 21, 2016 10:57:06 GMT
My attention was piqued a while back by a few posts on the 'Museum of HP Calculators' forum regarding tuning up of HP Voyager calculators such as HP11 and 15cs. For example see
here
,
here
and
here
(with a link to this guy's site
here
). Unfortunately however most of these had no pictures or the links to them were dead (although one member was kind enough to email me his pictures, which were very helpful). In case anyone wants to try this for themselves, here's how it is done.
The idea is to modify the LC circuit to increase its resonant frequency and hence increase the clock speed. This comes at the cost of reduced battery life and operating temperature range, although this is all relative given the very generous parameters of the original.
The subject calculator is SN 2423A46491, which I picked up while on holiday in the US last year. Unlike some others, this unit has a single PCB, but with all of the components of the LC circuit mounted on the top side of the board:
As an aside this contrasts with most of the pictures I have seen of other (later) units which have them on the bottom or back of the board, like the ones shown in Lyuka's article: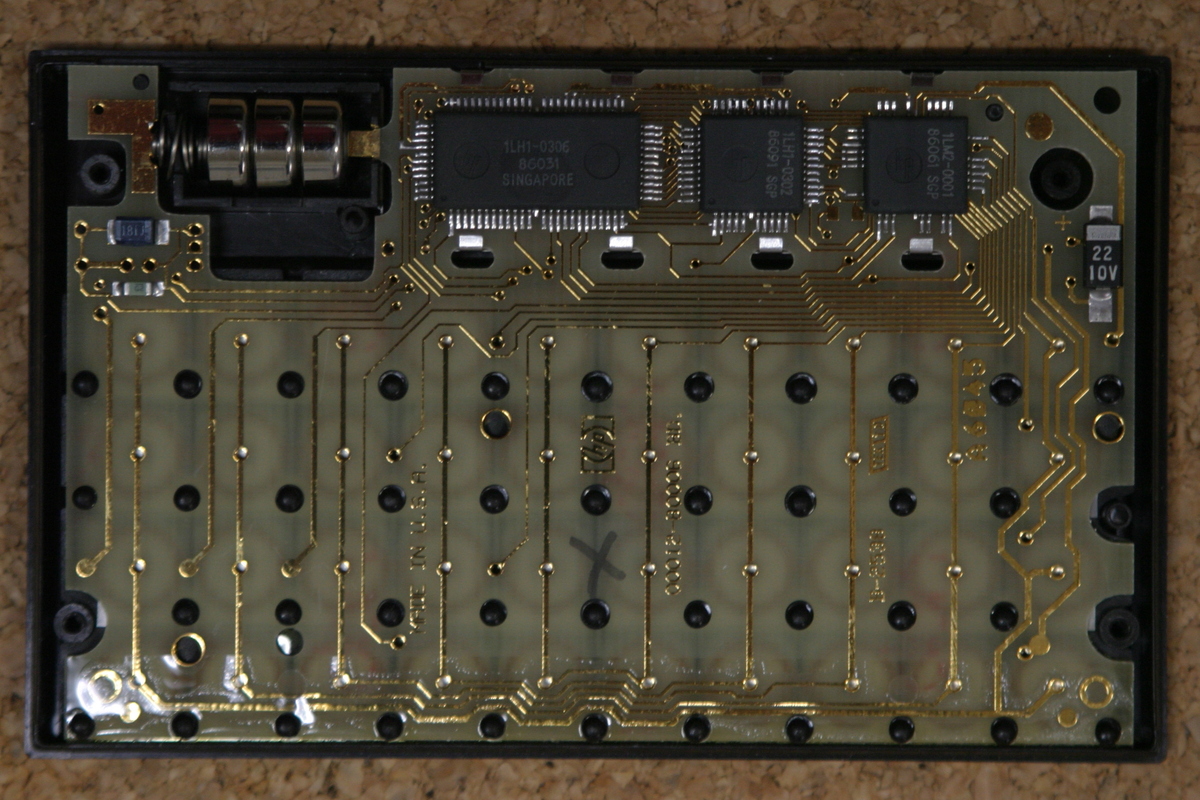 A further variation appears to turn up still later in which the components disappear to the other side of the board again, but with a very different track layout, as in this image showing a 1989 unit: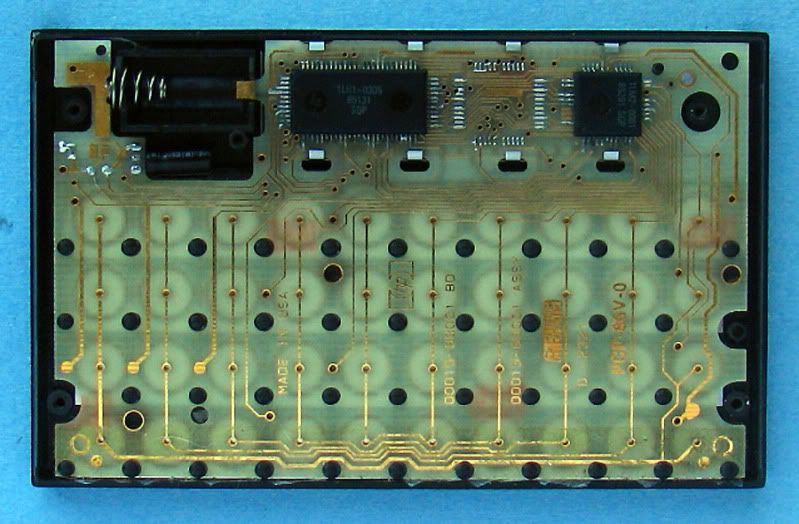 One method of altering the LC circuit is to replace the capacitor. For still greater rewards, one could undertake the more drastic modifications shown in the 'triple-speed' thread linked above. Because of the layout, any component changes would have involved undoing the heat stakes to get to the front of the PCB. Therefore I decided to go with the simplest option, which is to add an inductor in parallel with the circuit.
I added a 33μH inductor on to the reverse of the existing inductor like so:
My first attempt at soldering onto a PCB (after a few practice runs on a less precious subject), so pardon the slightly untidy work:
The subject unit also had a dodgy 2 key, which was sorted using the method discussed in
this
thread (IPA down the hole in the PCB, then clear out using a piece of soft wire. Highly recommend this if your calculator's keys are getting a bit unresponsive.
The modified calculator measures about 2.6 times faster than the original. It has been my main office number cruncher for about 4 months, and it seems to go fine - just quicker. If anyone else wants to have a crack at this let me know. Also, if anyone has an HP-10C or 16C manual floating around their office, I'd pay good money for one.